From 2011 to December 2016, Sino-French Engineer School has a total of five classes of graduates from Grade 2005 to Grade 2009, totaling 449 people. Due to school's internationalization orientation and the cultivating model with French engineer characteristics, the all-round development of students at all grades enables students to have "global vision, systematic thinking, and collaborative innovation" skills that meet rapidly changing challenges in a diversified world. The five classes of graduates' choice of employment areas and fields is also numerous and diverse.
According to overall statistics, employment abroad shows an increasing trend. Graduates' choice of employment area becomes increasingly diversified, indicating that their judgment of the times and situation is deepening and the view of career choice is being optimized. Location statistics of Grade 2005 to Grade 2009 graduates is shown in figure below.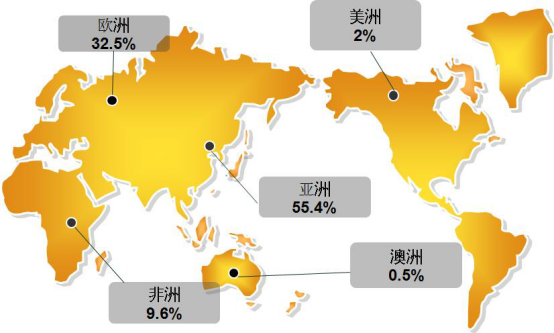 Europe, America, Asia, Africa, Australia
As for the field of employment, besides the steady number of permanent residents in Asia, foreign personnel are mainly concentrated in France and Africa, primarily French-speaking countries. As graduates of Sino-French Engineer School, students have mastered the comprehensive mathematical knowledge, obtained strong engineering ability, skilled in proficient French language and experienced the exchanging life and study abroad. Thus, in France and Africa, our graduates have a distinct advantage over other domestic graduates. Moreover, China and French have always enjoyed friendly relations, and French universities are lined up with advanced education level, in addition to the enormous large enterprises that provide diversified career positions; in recent years, China and Africa have more project cooperation, trade export, with certain large-volume infrastructure construction outsourcing projects embedded with more abundant jobs and relatively high pay. These are the factors that attract school graduates to seek employment abroad.
Analysis of the employment field of graduates indicates that in the last five classes of students, 64.81% chose to work domestically, 29.84% chose to go abroad for further study, while 3.12% and 2.23% were employed abroad or went further study domestically respectively.
449 Graduates in 5 Classes
 Further study 32.07%
 Other fields: mechanical engineering, chemical engineering, automobile, education, food, etc. 6.9%
 Finance and trade 10.69%
 IT and electronics 17.59%
 Energy 11.14%
 Aeronautics and Astronautics 21.60%

Owing to school's French engineer cultivating model, the all-round development of students at all grades enables them to find their own niche in all major areas, which greatly diversifies students' choice of employment. Moreover, the overall graduates have promising development platforms, with some students being promoted within six months of employment, enjoying broad future prospects.
The all-round development of Sino-French Engineer School students including being trilingual in Mandarin, English and French, systematically studying the French engineer system curriculum, and mastering hands-on skills in the intern and practice experience, enables students to have a distinct advantage in the professional world domestically and internationally and enjoy bright prospects after leaving the campus.